Broiled Tomatoes With Feta Cheese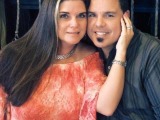 From Southern Living July 2006 test kitchen's top rated recipes. So easy and so delicious!
salt and pepper
1⁄2 teaspoon italian seasoning
2⁄3 cup crumbled feta cheese
1⁄4 cup Italian dressing
Directions
Cut tomatoes in half lengthwise, and place, cut sides up, on a baking sheet.
Sprinkle evenly with salt and pepper to taste, Italian seasoning, and feta cheese. Drizzle evenly with 1/4 cup Italian dressing.
Broil 3 inches from heat 2 to 3 minutes or just until cheese starts to brown.
Most Helpful
This is now one of my favorite ways to have tomatoes as a side dish! Even hubby, who only eats tomatoes on a sandwich, loved it! Did not alter a thing, made the recipe as is and it was super easy too!

Love this recipe! This is so easy and simple but the tomatoes were flavorful and yummy. Will definitely make again and again :)

These were so EASY and so DELICIOUS! My tomatoes were so juicy and the seasoning, light Italian dressing and feta were so flavorful. Just WONDERFUL and a KEEPER. Made for Holiday tag.