Broiled Tilapia With Thai Coconut- Curry Sauce
Thorsten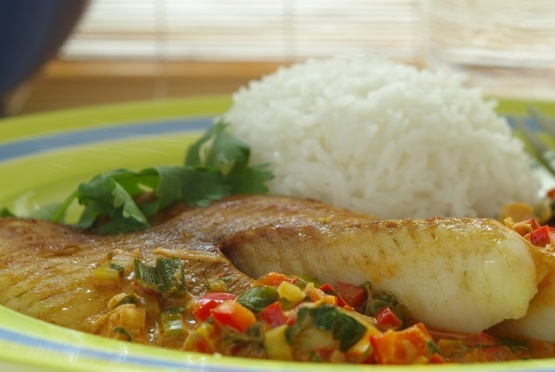 This dish is loaded with flavor and makes a lovely, colorful presentation. You'll want to serve with plenty of rice to absorb the wonderful sauce. (Noted added 11/05/07: I like to credit original recipe sources when known, but wasn't sure about this one when I submitted the recipe. Fortunately, a reviewer pointed out that the recipe came from Cooking Light, so I searched their site--indeed, it was originally published in their September 2002 issue. Thanks to the reviewer for bringing this to my attention, and thanks to Cooking Light for developing the recipe! :) )

We are catching enough fish at present to eat it every second day and fill a freezer with the excess. I am constantly searching for recipes to keep our meals interesting and this was a great one.I used an extra teaspoon of curry paste and fish sauce rather than soy. I had to use light coconut cream, so I used half a can (will freeze the rest) and diluted that with water. I calculate this gave us just over 11g of fat in total in each serve. I could eat this again tomorrow night and am posting it to my repeatable fish recipe cookbook so that if I don't (eat it again tomorrow) I can eat it soon. We don't get tilapia in Australia, so I used Charley Court Cod, so named I've heard, because the fish and the former premier of this state both have big mouths.
Preheat broiler.
Heat 1/2 teaspoon oil in a large nonstick skillet over medium heat.
Add ginger and garlic; cook 1 minute.
Add peppers and onions; cook 1 minute.
Stir in curry powder, curry paste, and cumin; cook 1 minute.
Add soy sauce, sugar, 1/4 teaspoon salt, and coconut milk; bring to a simmer (but do not boil).
Remove from heat and stir in cilantro.
Brush fish with remaining 1/2 teaspoon oil and 1/4 teaspoon salt and place on a baking sheet coated with cooking spray (I just use parchment paper).
Broil 7 minutes or until fish flakes easily when tested with a fork.
Serve fish with sauce, rice, and lime wedges.