Annacia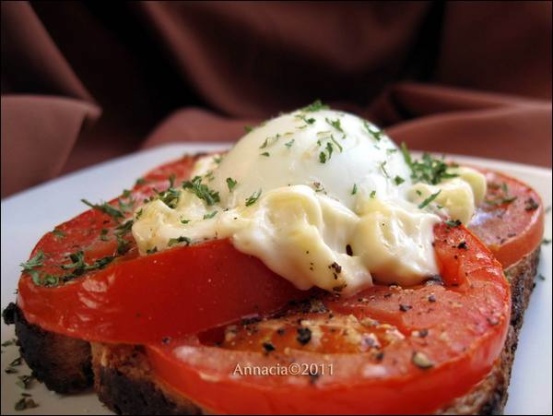 From a 1930s hand written cookbook. Hard boiled eggs, tomato; could be a lenten sandwich.

WOW, can't believe how good this was. I used fat free cheese and 1/2 fat mayo to cut back the overall fat thus making this quite diabetic friendly. Maybe I should have had it a little farther away from the broiling element as the crust was blackening a lot faster than the mayo was browning, lol. The cheese, tomato and egg were grand together. The hot sandwich was really appreciated today with a serious Fall chill in the air.
Toast bread on one side.
Place toasted side down on a cookie sheet.
Cover with a slice of Swiss cheese.
Cover Swiss cheese with slice of tomato.
Salt and pepper to taste.
Brush with melted butter.
Put 1/2 of hard boiled egg on tomato, yolk side down.
Spread round white part of the egg with 1 tablespoon mayonnaise.
Broil until cheese is melted and mayonnaise is browned.