Broiled Sole With Mustard Sauce
Derf2440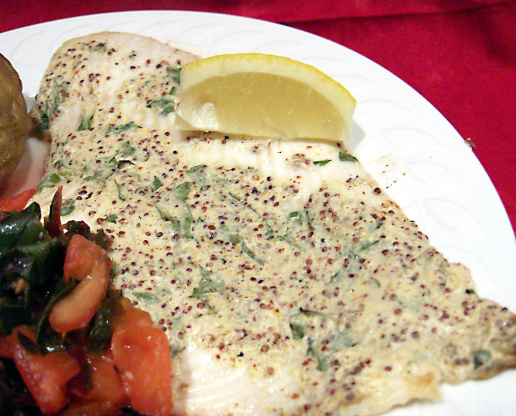 This delicious sauce keeps fish moist. Try it over cooked broccoli or string beans, too.

This was so delicious! I used a little lemon pepper rather than pepper and used freshwater fillets of fish. I reduced the recipe down for two and the amount of topping was perfect. Mine took about 6 minutes to cook and I had to turn it over as the sauce was getting a bit too brown in spots. I served this with roasted potato, sweet potato and butternut wedges, which I just sprinkled with a little garlic powder and cooking spray and some steamed green beans. It all went together perfectly. Thanks Dancer for another great fish recipe!
Coat a baking sheet with nonstick cooking spray.
Arrange fillets so they don't overlap.
In a small bowl, combine the mayonnaise, mustard, parsley, and pepper and mix thoroughly.
Spread the mixture evenly over the fillets.
Broil 3 to 4 inches from the heat for 4 minutes until fish flakes easily with a fork.
Arrange fillets on a serving platter, garnish with lemon wedges, and serve.