Broiled Shrimp With Herbed Mayonnaise
vrvrvr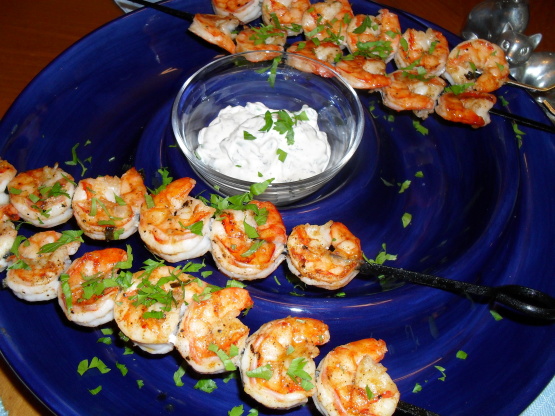 This is an easy recipe which produces elegant results. You could also make it with scallops, or make it on the grill. From Better Homes and Gardens Heritage of America Cookbook.

Top Review by vrvrvr
We loved this shrimp dish! So tasty and the dipping sauce just puts the perfect finishing touch. I threaded and brushed my shrimp with the butter sauce about an hour before broiling and they waited in the fridge. I served this with brown rice, fresh green beans, and leftover sweet potato bake. In fact, after the shrimp were inhaled, some of us topped our rice with the herbed mayo and it tasted marvelous. Thanks for posting this hit!
Grease rack of broiler pan.
Thread shrimp on 10-inch skewers and place on rack.
In a small bowl mix butter, pepper, and paprika; brush half of this mixture over the shrimp.
Broil shrimp about 8 minutes, 4 inches from the heat, turning and brushing often with the remaining butter mixture.
To make the herbed mayonnaise, in a small bowl combine mayonnaise, green onion, lemon peel, lemon juice, dillweed, thyme, and parsley.