Broiled Salmon with Sweet Red Pepper Sauce
Jubes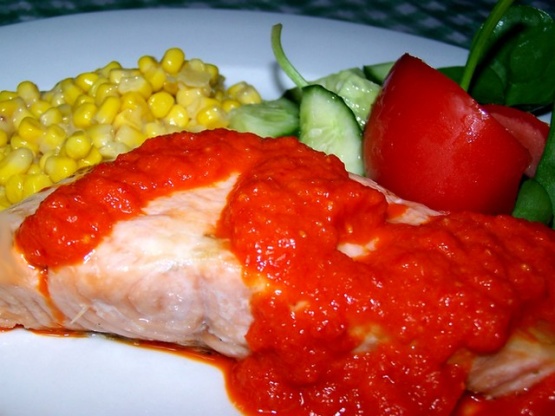 Can also cook the salmon over the grill.

I'm not a huge fan of bell peppers (they don't like me), but I wanted to try something different over salmon and this sounded great. IT WAS AMAZING!!!! The flavor was incredible - not too sweet. And the recipe was easy. No special skills needed. It does make a lot so be sure to save it and use it later on other foods - lke crackers and cheese. I'm making it again tonight for my mom. She loves red peppers and salmon so I thought this would be perfect for her to try also. EDITED TO ADDED: This was AWESOME over my grilled hot Italian Sauce links. I had sauce left over from the salmon and just had to eat more of it. It was great used as a dipping sauce for my sausage and as a condiment on italian bread with the sausage, peppers and onions on it made into a sandwich. YUMMY!!!!
Preheat broiler.
Broil peppers on both sides until black and blistered.
Place in metal bowl and cover with plastic wrap and allow to sweat for 10-15 minutes.
Lower oven heat to 400 degrees F.
Wrap garlic in foil; roast in oven 5- 10 minutes or until soft; peel and set aside.
Peel peppers over a bowl to catch any juice; discard stems and seeds.
Puree peppers in a blender or food processor in their juice along with garlic, vinegar, and oil; set aside.
Broil salmon 2-3 minutes per side.
Serve red pepper sauce drizzled over salmon.