Broiled Salmon With Herb Mustard Glaze
Derf2440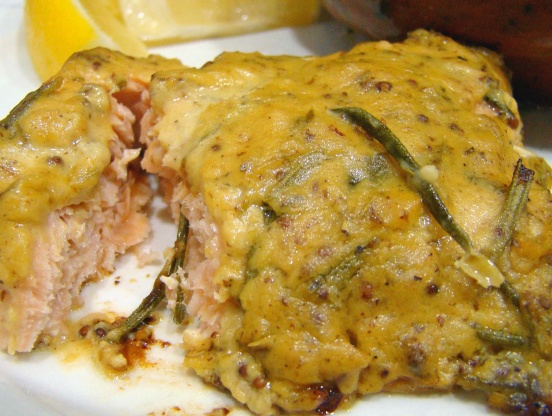 Fast meal. Divine taste. This recipe is from Giada's Everyday Italian on Food Network. My husband loves salmon and thought this was perfect. The kitchen smelled wonderful while it was cooking. Worthy of company or to treat yourself with little effort. I did substitute dill for the rosemary. I served it with gruyere potato gratin and sugar snap peas.

Found this when looking for a way to use up my salmon, rosemary and thyme. Didn't have dijon or whole grain mustard, so I substituted spicy brown and maple mustards and skipped the lemon. Delicious! My husband and picky daughter also enjoyed it. I think this might be my new fave fish recipe!
In a mini food processor, combine garlic, rosemary, thyme, wine, oil, Dijon mustard, and one tablespoon of whole-grain mustard.
If you don't have a mini food processor, finely chopping it all by hand works as well.
Grind the mustard sauce until combined.
Transfer to a small bowl and add the remaining tablespoon of whole-grain mustard.
Set sauce aside.
Preheat the broiler.
Line a baking sheet with foil and spray it nonstick spray.
Place salmon fillets on the baking sheet and sprinkle with salt and pepper.
Broil for two minutes and then spoon the mustard sauce over the fillets.
Continue broiling the fillets until they are cooked through and golden brown, about 5-6 more minutes.
Serve with lemon wedges.