L-Burden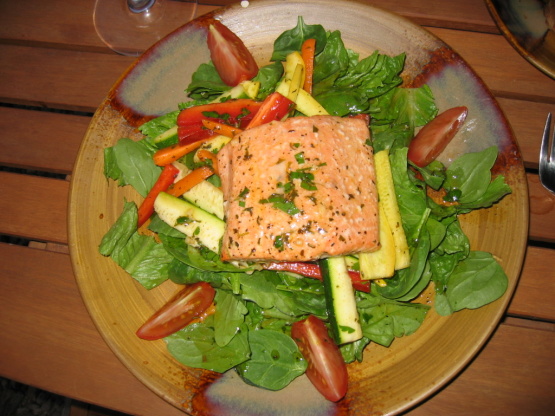 This makes a romantic evening( or lunch) for two. Lovely! Prep time includes marinating time. From Joyce Maurer in Christmas, Fla.

This was a wonderful and surprisingly hearty meal...my husband (a total carnivore) was raving about it. I didn't have any dried tarragon for the dressing, so substituted a pinch or dried fennel instead. When plated, this looks so elegant. Will definitely be making again!
Place salmon steaks in a shallow 1-quart dish; pour 1/4 cup dressing over steaks.
Cover and refrigerate 1 hour, turning once.
Cut zucchini and next 3 ingredients into thin strips; combine with cilantro and 1/4 cup dressing, tossing gently.
Set aside.
Remove steaks from marinade; place on lightly greased rack of a broiler pan.
Broil 4 inches from heat (with electric oven door partially opened) 5 to 6 minutes or until fish flakes easily.
Cool slightly.
Arrange salad greens and marinated vegetables on serving plates.
Top with salmon steaks, tomato wedges, and avocado slices.
Garnish, if desired, and serve with remaining dressing.
Yield: 2 servings Lemon and Herb Dressing: Combine all ingredients in a jar; cover tightly, and shake vigorously.
Yield: 1 1/3 cups.