Broiled Orange Roughy - Low Fat and so Healthy!
Rita~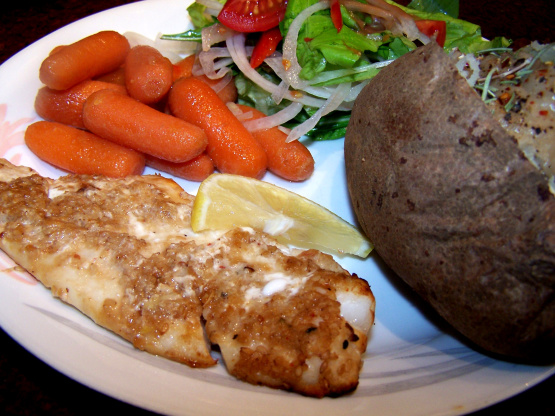 Terrance from Auckland shared his favourite recipe with us. Orange Roughy is a white, mild, firm textured fish popular from the cold deep waters of New Zealand. You can substitute halibut or red snapper.
I cut this recipe in half for the 2 of us & there was just enough left over for a nice snack! I did use roughy as per the recipe but might just try it with halibut another time! Loved the mix of flavors here & wouldn't change a thing (well, except, mayby, to up the amount of garlic, but that's no major thing! [Tagged, made & reviewed while touring Australia during ZWT5]
Place fillets in a shallow baking dish. Combine white wine, ginger, onion, garlic, lemon juice, soy sauce and crushed red pepper and process in a blender until smooth. Pour over fillets, cover and marinate in refrigerator about 1 hours.
Remove the fillets from the marinade and season with salt and pepper then coat both sides with sesame seeds. Spray broiler pan with non-stick vegetable spray and pre-heat broiler.
Broil about 4 inches from heat for 6 to 8 minutes or until fish flakes easily with a fork.
Be careful not to overcook!
Serve with lemon.
Garnish with Parsley and or Lemon.