Broiled (Or Barbecued) Chicken With Lemon
lazyme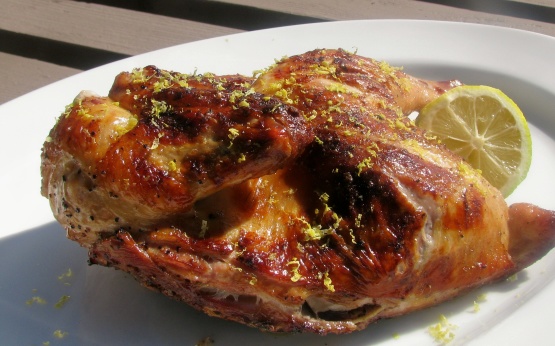 This recipe is adapted from Perfect Greek a collection of essential recipes. You can broil the chicken or grill on the back yard barbecue. Note: The times indicated do not include marinating time of at least 2 hours.
We really like this chicken. I was lucky enough to find a tiny chicken that I just cut in half for the two of us. It marinated around 4 hours before grilling.
Prick the skin of the chicken quarters all over with a fork. Place the chicken in a zip bag and add the lemon juice, oil, garlic, thyme, salt and pepper. Reserve the zest for garnishing later.
Close the bag and shake and squish contents to mix well and coat the chicken. Let rest in the refrigerator at least 2 hours.
Preheat the broiler or barbecue. Baste chicken with marinade periodically and broil or grill at least 30 - 40 minutes, or until done (the juices will run clear when pierced with a skewer).
Serve hot, with lemon zest sprinkled over the chicken.