Broiled Maple/Orange Chicken
Another diabetic recipe that mom got in the mail from Maple Grove Farms of Vermont. Use any Sugar-Free Maple syrup or Sugar-Free Orange Marmalade brands in your area.
Directions
Mix first 7 ingredients in a covered container, add chicken.
Let sit overnight, turning occasionally.
Broil 5-6" from heat, about 7 minutes.
Turn and continue broiling another 7 minutes or until cooked.
Sprinkle with parsley to garnish.
Most Helpful
This is so easy to make! I can;t stress that enough. I doubled the recipe because of my family's size but I only used 3/4 cup syrup. I also add a tespoon of orange zest and that really punched up the citrus flavor. Thank you Sarah J for a tasty meal.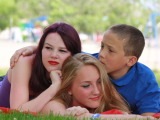 What a great taste, sweet and tangy! Easy to prepare. I followed step 1 in the morning and broiled the chicken when I got home from work. While the chicken broiled, I tossed together a salad and made some seasoned rice. Great meal in a hurry. Thanks for posting Sarah.

Great recipe! Thanks!!!