Broiled Mahi-Mahi With Parsleyed Tomatoes and Feta
PanNan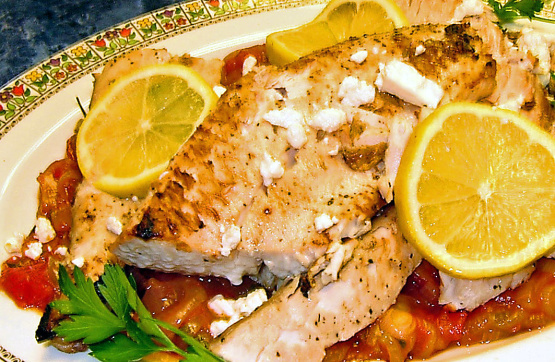 Mahi-mahi is a very lean, moderately flavored, firm but moist fish, with solid flake. You could substitute amberjack, mullet, pompano, grouper, farm raised catfish, or cod.

This recipe is excellent! My man never had mahi-mahi and was thoroughly impressed. Since I made 2 servings I didn't bother to open a can of tomato paste to use such a small amount. I didn't miss it a bit. THANK YOU!
Heat olive oil over medium heat in saute pan. Saute sliced onions in the oil for about 8 minutes or until tender. Add tomatoes, parsley, white wine, tomato paste, garlic, 1/4 tsp salt, and 1/4 tsp pepper. Simmer for 5 minutes. Set mixture aside.
Lightly grease a rack, and line a broiler pan with aluminum foil. Place rack in broiler pan.
Place fish, in a single layer, on the rack. Sprinkle with the remaining salt and pepper. Broil fish about 5 inches from heat for about 8 minutes, or until the fish flakes easily with a fork.
Spoon the onion-tomato mixture evenly onto a platter. Place the broiled fish on top of the onion-tomato mixture.
Sprinkle with crumbled feta, and garnish with lemon slices.