Broiled Grapefruit With Honey, Vanilla & Cardamom
Boomette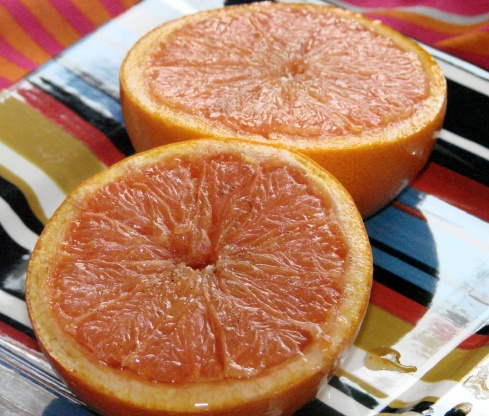 I love grapefruit and this makes a yummy breakfast for me. This is from Fine Cooking.

Delicious. I love grapefruit and cardamom, so I had to give this a try. I've tried both honey and sugar. I like it a little better with sugar, but I'm not a huge fan of honey. Thanks for the healthy breakfast, snack, dessert idea.
Position an oven rack about 4 inches below the broiler and heat the broiler on high.
With a serrated knife, cut the grapefruit in even halves.
Using a small paring knife or a grapefruit knife, cut each section away from the surrounding membrane.
Set the grapefruit halves in a shallow broiler-safe pan (such as an enameled baking dish or a heavy-duty rimmed baking sheet).
If necessary, trim a thin slice off their bottoms so they sit level.
In small bowl, stir together the honey and the vanilla extract.
Drizzle the honey mixture over the grapefruit halves.
Dust each with a bit of cardamom.
Broil until bubbling and lightly browned in spots, 4-6 minutes.
Remove from the oven and let cool slightly.
Serve warm or at room temperature.