Broiled Garlic and Pepper T-Bone, Ala Elswet
Pagan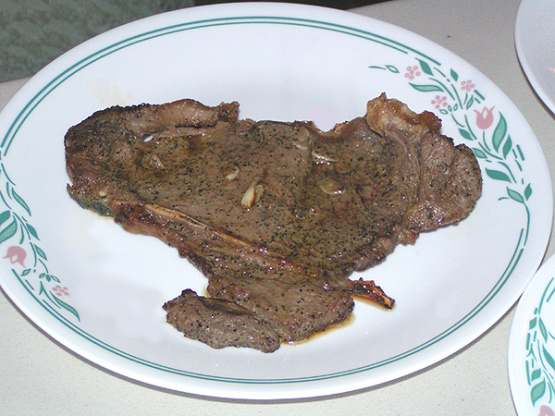 This recipe is for two [2] thin, sweet, tender, 1/2" thick T-Bones; about 8 ounces each, including the bone. "ala Elswet" is for the garlic and pepper lovers in the carnivorous kingdom. This is super-easy and tastes SO GOOD! We love it! We hope you love it, too.

Because of the extreme cold weather lately,I didn't want to bother trying to fool with the grill outside.So, thought I'd try the alternative way of cooking T-Bone: broiling.We used seasoned tenderizer(was on hand) & reduced the amount of oil-1/4 c. EVOO for 4 lbs worth of 1" steaks. To make it even simpler whisked the marinade ingredients together,dumped into a large ziploc with the steaks,and turned to coat before marinating overnight in the fridge.They came out nice and tender.Used the drippings and garlic from the pan to make a kind of gravy, which was rich with flavor, and great with baked potato!
16

ounces beef t-bone steaks, store-butcher sliced into thin 1/2-inch steaks (timing will be different for 1-inch steaks!)

4

large garlic cloves, sliced paper thin, large-jumbo sized cloves

1

teaspoon salt

1

teaspoon meat tenderizer, no MSG, unseasoned

2

tablespoons virgin olive oil

1

tablespoon black pepper, coarsely ground
Oil both steaks well and place into lined broiling pan. Do NOT use rack, or the meat will be dry! Pour remaining oil over steaks and turn steaks over and over to thickly coat.
Halve salt, tenderizer, and pepper equally; sprinkle both steaks, both sides. Halve sliced garlic cloves and place on both sides of both steaks.
Let steaks marinate a minimum of 4 hours [overnight is highly preferred]. Turn steaks over to saturate other side, half way through marination time, if possible, replacing errant garlic slices.
Preheat oven to broil, and broil steaks in broiling pan 4 minutes on top side, flip, and 3 minutes on other side for medium.
3 minutes on top side, flip, and 2 minutes on bottom for medium-rare.
5 minutes on top side, flip, and 4 minutes on bottom for well.