3 Reviews
Very nice quick and easy recipe.
This is the first time I've had flounder & probably the last. The taste was good, but I like my fish much firmer. Might try it again with ocean perch. THANKS!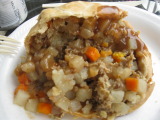 We loved this. I followed the recipe other then I used 7 flounder fillets and doubled the butter and didn't measure the old bay. I didn't use the lemon as we aren't fond of lemon on our fish. Mine did take about 20 minutes to cook but I do think I had it further away then five inches. Quick and easy to make.

Broiled Flounder (So Easy!)