Broedlaewend (Romanian Beef Soup)
AB_Fan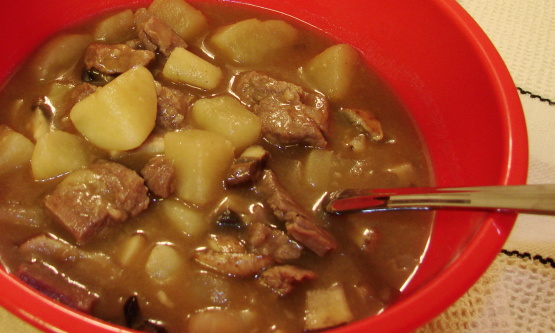 A Romanian Beef Soup adapted from The Balkan Cookbook by Inge Kramarz.

Top Review by Satyne
This was magnificant, i followed recipe exactly. Didn't state what type of vinegar was used, so i used red wine. I really liked how the flour portian made a sort of 'gnocci' texture in there. Definately want to make sure you break that mixture up so you don't just get one big chunk. Thanks for a great recipe, can't wait to make it again.
Saute onion in oil for 10 minutes.
Add meat and saute for 5 minutes.
Add broth and simmer for 1 hour.
Add potatoes, salt, pepper and bay leaves. Simmer for 20 minutes.
Remove Bay Leaves
Remove 1/2 cup broth from the soup and slowly stir in the flour, add the flour mixture to the soup.
Simmer for 3 minutes.
Add vinegar, cream and parsley.
Stir, remove from heat and serve.