Broccolini With Creamy Lemon Sauce
Rita1652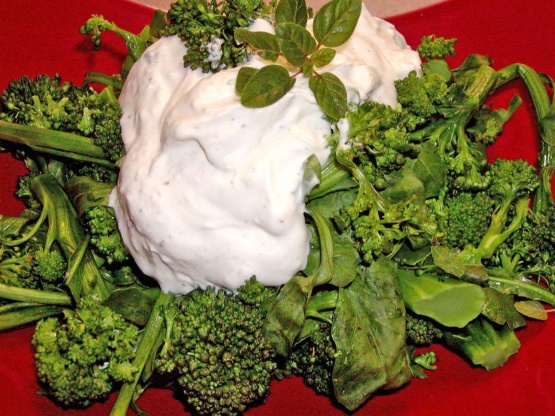 A broccoli recipe for those who thought they hated broccoli. Brocconlini is sweeter and milder tasting than mature broccoli. Found this jewel of a recipe in my March 2003 Better Homes and Garden magazine. Fresh asparagus, pea pods or romanesco would make excellent substitutes for the broccolini. Mascarpone is available at Trader Joe's and well-stocked grocery stores.

My first time making broccolini - this sauce was very nice. I thought it was just right to go along with dinner. Like another reviewer I used cream cheese. Thanks for posting!
Bring a large pot of salted water to boiling. Cook the broccolini until crisp-tender, approximately 5-7 minutes. (For asparagus: 3-5 minutes; pea pods: 2-4 minutes; romanesco: 7-8 minutes.).
Drain well.
To make the lemon sauce, in a small bowl combine the mascarpone cheese, sour cream, milk, marjoram, lemon peel and lemon juice. Season to taste with salt and pepper.
Transfer the cooked broccolini to a serving platter. Spoon the lemon sauce over the vegetables. Garnish with a marjoram sprig.
Serve warm.