Broccoli With Lemon, Kalamata Olives and Capers
twissis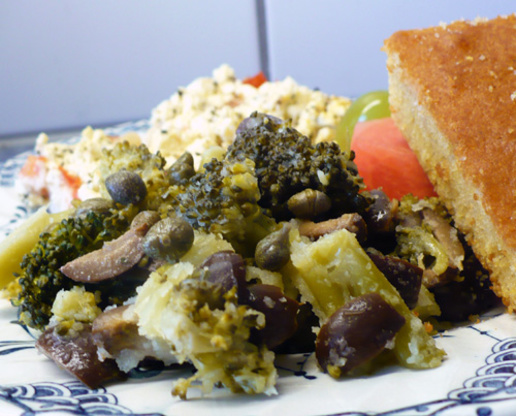 From a local source. I tested this recipe by substituting a variety of colors of cauliflower (purple, white, golden) for the broccoli. Other cruciferous vegetables such as broccolini, broccoflower, brussels sprouts, romanesco, etc. will work, too. Easy!

Made for the Gourmet Goddesses on the 1st dy of ZWT-9, this recipe is delicious & has many of our favorite ingredients. Other than perhaps adding a tad more butter than suggested, I made it as written & loved that it felt like broccoli dressed w/Hollandaise --- BUT without all the excess fat content & calories of Hollandaise. Thx for sharing this recipe w/us. :-)
In a medium saucepan fitted with a steamer basket, bring a 1 inch of water to a bowl. Steam the broccoli until tender-crisp, 4 to 5 minutes.
Transfer the broccoli to a serving bowl, cover and set aside.
While the vegetables are steaming, in a small saucepan over medium heat, melt the butter.
Add the oil and garlic and cook, stirring, for 1 minute just until the garlic begins to become fragrant.
Stir in the olives, lemon juice and capers and cook until heated through, approximately 1 minute.
Pour the sauce over the steamed broccoli and season with black pepper.
Toss well to coat.
Garnish with a sprig or two of fresh parsley, if desired.