Broccoli Two Cheese Frittata
KateL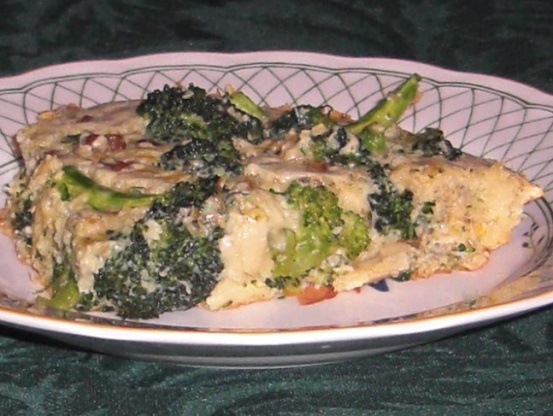 an adapted recipe, with some changes, a good dish that the kids will love.

I made half of this for Sunday brunch and it came out delicious. I ended up using a bit of the broccoli mix and a bit of cream of leek and they were great together. Lots of flavor and a really nice texture. So glad that I tried this! :D
In a large skillet, melt margarine, and saute onion. Add broccoli and 1 tablespoon water.
Cook, stirring occasionally, on low heat for 5 minutes, until tender crisp, but still green.
IN a separate large bowl, whisk eggs, soup mix, cheese, milk, salt, and pepper. Fold in broccoli-cheese mixture.
Pour into buttered 10 inch deep dish pie pan.
Bake at 350 degrees for 20-25 minutes, or until center is set.
Take out of oven , let sit for 5 minutes, before cutting into pie wedges.