Tisme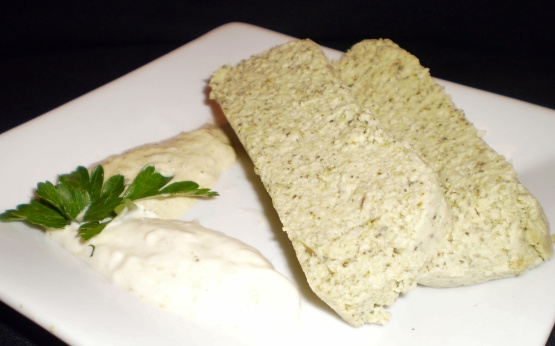 A nice light flavored dish that is good with Roasted Red Pepper Sauce or Lemon Garlic Mayonnaise. This broccoli terrine can be made up to a day ahead. Cook time does not include the 3 to 4 hour chill time or 10 minutes cool time.

Top Review by Tisme
This is a recipe, I would not normally make, but I had peppers and brocolli, in the garden, so thought I might try something different.
A lovely light recipe which I served with both suggestions Roasted Red Pepper Sauce or Lemon Garlic Mayonnaise, although I did use green peppers in the mayo.
It was really nice, although not enjoyed by all members of the family. I think because the brocolli seemed to take on a different flavour or maybe it was the texture, half of us loved it and a few vegie lovers did not. I loved the flavours, but then I adore brocolli.
I served this with crusty bread and water crackers, and loved it.
It does take a while to make, but well worth the effort, and I will be making this again, but over summer, maybe on a board with cheese.
I think the Roasted Red Pepper Sauce or Lemon Garlic Mayonnaise is a must to serve with this also.
A really lovely recipe Deb, can't wait for summer to try this again.
Pre heat oven to 350°F.
Process broccoli in food processor until mixture is almos smooth. Mix in sour cream, creese, lemon juice, and herbs. Season to taste with salt and pepper. Mix in eggs and egg whites.
Pour mixture into greased loaf pan. (mine is 8 1/2" x 4 1/2"). Place loaf pan in large roasting pan on middle oven rack, add 2 inches hot water to roasting pan. Bake, covered until set, about 1 hour.
Remove loaf pan from roasting pan and uncover. Let stand 10 minutes.
Loosen sides of loaf with sharp knife and invert onto serving plate, smooth edges with knife, if necessary. Cool. Refrigerate until chilled 3 to 4 hours.
Cut into slices and serve with either Roasted Pepper Sauce or Lemon Garlic Mayonnaise.
**Roasted Pepper Sauce**.
Process peppers in food processor. Stir in sour cream. Season to taste and chill.
**Leomon Garlic Mayonnaise**.
Stir together lemon zest, lemon juice, garlic, mayonnaise. Season to taste and chill.