Broccoli Stuffed Tomatoes
Laurita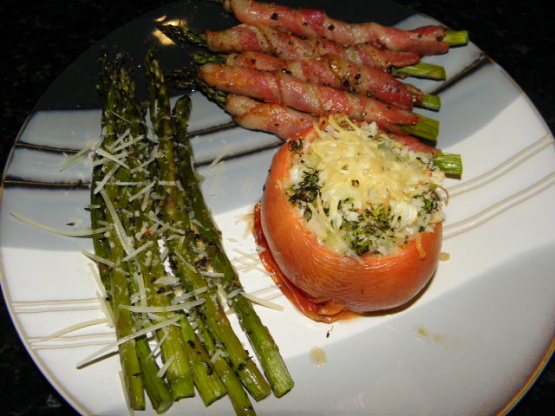 These make a wonderful side dish...I have even baked these in my outdoor covered gas grill (covered with foil), they are delicious served with grilled meat or chicken.... so awesome!

This was very, very good!!! I did everything as the recipe stated, but then after putting them in the oven - found that I did not put the mayonnaise in - I had it out and followed the recipe, but it had been left out of the instructions also. I imagine you add to the mixture prior to stuffing the tomotoes - but with leaving out the mayo, it was still simply fabulous! I am going to make some of these to take on a camping trip, what a treat!!! And they are healthy, I'd say - tomato, brocolli, breadcrumbs, cheese - well not too bad! Loved it and they are beautiful as a side or main course. I made them along with bacon wrapped asparagus and the whole meal was beautiful and extremely tasty. My guest thought would even be better with a little bacon in the brocolli mixture, maybe so, but it is fantastic just like it is! Thank you for a great recipe!
Set oven to 350°F.
Wash and dry tomatoes.
Cut the tops off from tomatoes.
Scoop out the pulp (careful not to tear the tomatoes).
Sprinkle the insides of tomatoes with salt, pepper and sugar (use any amount of salt, pepper and sugar desired).
Invert/turn over on a wire rack; drain for 30 minutes.
Meanwhile, in a bowl, mix the well-drained chopped broccoli pieces with the grated Swiss cheese, bread crumbs, 2 Tbsp grated Parmesan cheese (if using).
Stuff the tomatoes with the mixture.
Sprinkle the tops with chopped onion and more Parmesan cheese.
Sprinkle lightly with shredded cheese (if using).
Place in a greased baking dish (any size desired to hold the tomatoes).
Tent very loosely with foil (these can be baked without covering also, if desired).
Bake for 30-35 minutes, or until the tomatoes are tender.