Broccoli Soup With Cheddar Cheese
Parsley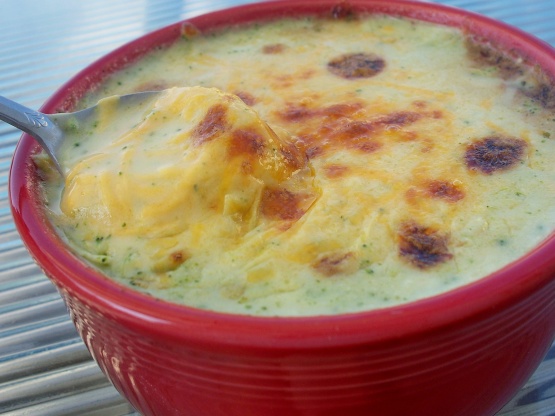 This is a nice soup from Bon Appetit. Be sure to use fresh tarragon for the best flavor. This soup is not thick and creamy, so sometimes I puree half of it for a creamier texture.

Such a yummy soup.. I used 5 cups of broth, and a bit less butter overall. Used a nice extra sharp white cheddar with a little bit of swiss cheese. Not sure why but I couldn't get a nice crust on the top while it was under the broiler, the cheese seemed to sink to the bottom. Either way, it was delicious.
Melt 3 tablespoons butter in heavy medium pot over medium-high heat.
Add broccoli stems and onion; sauté until onion is translucent, about 6 minutes.
Add garlic and tarragon; sauté 1 minute.
Add stock; bring to boil.
Simmer uncovered until broccoli is tender, about 15 minutes.
Stir in cream.
Mix remaining 3 tablespoons butter with flour in small bowl to make paste.
Whisk paste into soup.
Add broccoli florets.
Simmer until soup thickens and florets are tender, stirring frequently, about 5 minutes.
(Can be made 1 day ahead. Cool slightly, then refrigerate uncovered until cold. Cover and keep refrigerated. Bring to simmer before continuing.)
Preheat broiler.
Place 6 ovenproof soup bowls on baking sheet.
Divide soup among bowls.
Sprinkle 1/3 cup cheese over each.
Broil until cheese melts and bubbles around edges, about 4 minutes.