Derf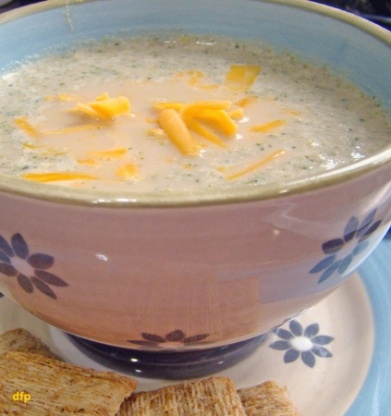 This is a GREAT healthy recipe from Dr. Weil. My family LOVES this recipe. Enjoy!

I liked this recipe. I was looking for a way to use up a large bag of broccoli. I also used chicken broth instead of veggie broth. Additionally, I cooked the onions in olive oil. I added salt at the end and a bit more chicken broth to tone down the ginger. I rated 4 stars because in our house, I will be the only one eating this. Overall good and healthy.
In a large saucepan, bring the vegetable broth to a boil.
Add the chopped broccoli, garlic and ginger. Reduce the heat to low and cover. Steam for about 5 minutes or until the broccoli is tender. Remove from the heat.
After the broccoli has cooled slightly, puree it in a food processor or blender. Return it to the sauce pan.
Add the soy milk or skim milk and soy sauce. Warm over low heat.
Serve sprinkled with chopped red onion.