Broccoli Slaw With Turkey Bacon and Water Chestnuts
PaulaG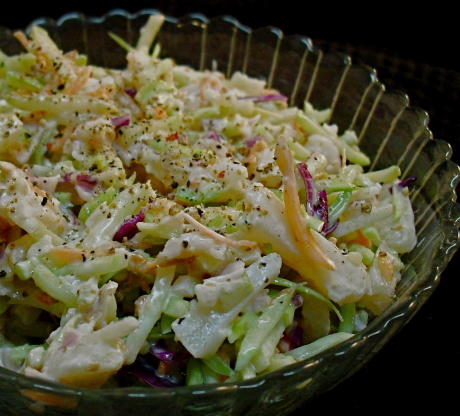 This popular potluck classic is lighter with a yogurt-based dressing. The original recipe called for 1/4 cup yogurt, 1/4 cup reduced-fat mayo, and 2 tsp sugar. But, I replaced it with 1/2 cup yogurt and 1 tsp Splenda. I had to make sure the waterchestnuts aren't dripping wet, otherwise the dressing will be watery. (Eating Well, Winter 2004)
Top Review by PaulaG
We really enjoyed this lighter version of a wonderful side. I used a combination of low fat mayo and plain yogurt. I did substitute Splenda for the sugar and a shallot for the red onion. The water chestnuts give this slaw a wonderful crunch. Thanks for posting.
In a large skillet, cook bacon over medium heat, turning frequently, until crisp (5 to 8 min).
Drain bacon on paper towels.
If using whole broccoli, trim off ends and chop the rest into 1/4-inch sticks.
Chop bacon coursely.
In a large bowl, whisk yogurt, vinegar, sugar, salt, and pepper.
Add water chestnuts, onion, broccoli, and if available, nuts or seeds.
Toss to coat.