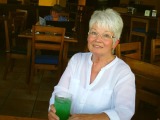 I found this recipe on Smitten Kitchen - a favorite blog for foodies. I love this recipe. I made it twice this week.
Directions
Trim broccoli and cut it into small pieces.
Toss the sliced broccoli with the almonds, cranberries and red onion in a large bowl.
Meanwhile, whisk the dressing ingredients - buttermilk, mayo, vinegar, sugar and shallots ( or use finely chopped red onion in the dressing ).
Add good pinch of salt and pepper to dressing and mix well.
Pour dressing over the broccoli.
Season with salt and pepper.