Parsley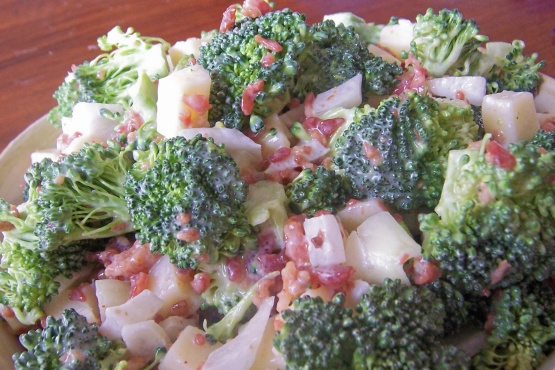 A very tasty salad that's made the day before. Omit the cayenne if you wish.

I actually used this as our main dish this evening along with some biscuits. I used turkey bacon and 1/2 fat mayo. It has excellent flavor and isn't difficult to make. I really glad that there are leftovers for tomorrow's lunch. Made fro Culinary Quest 2014.
Wash the broccoli and cut the florets into bite sized pieces.
Combine broccoli with the cheese in a large bowl.
Add the green onions and toss well.
In a small bowl whisk together the mayo, sugar, vinegar and cayenne.
Pour over the broccoli mixture and stir well.
Cover and refrigerate overnight.
Just before serving stir in half the bacon and sprinkle the other half on top.