loof751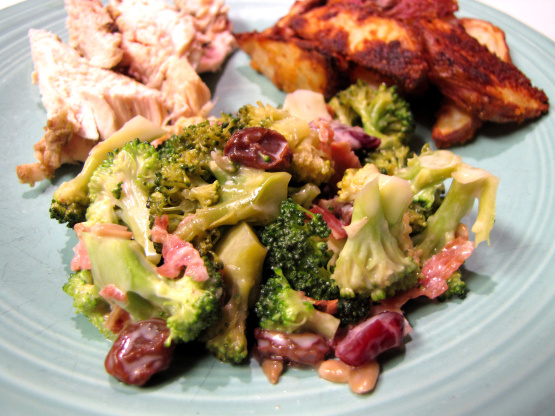 This is a cool recipe for a hot summer day!
This is a wonderful Broccoli Salad. I didn't even let it chill yet and it was good! Can't wait to see how much even tastier it will be tomorrow after a long chill. The only thing I did differently was I didn't put any of the bacon grease in it. It really didn't need it and I thought it might be better for everyone. Thanks Boyblu19! Made for PAC Fall 2011.
Cut the broccoli crowns into bite size pieces. Add the onions. Toss well. Chill. Add the hot bacon drippings and crumbled bacon. Toss well again. Add the sugar and vinegar. Toss. Add the sunflower seeds, craisins, and raisins. Mix until all ingredients are well distributed. Begin adding the miracle whip. Continue mixing the salad and adding miracle whip until you acquire the right consistency. Let salad chill in the refrigerator for a couple hour to let all the flavors marry. It is even better the next day. Enjoy!