loof751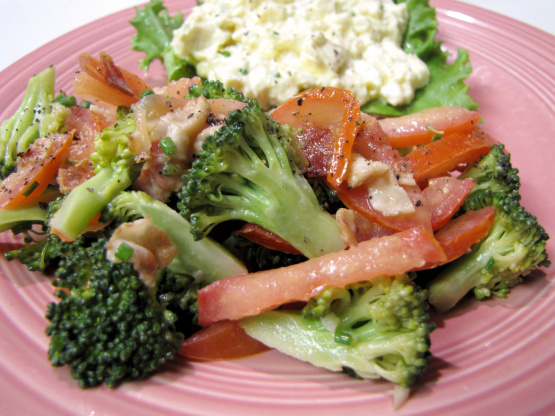 Easy and delicious...try adding some diced feta cheese, or chopped chillies etc to it

Very different broccoli salad! Loved the colors just after making this. But it tasted better after letting it chill for a day in the refridgerator. Really enjoyed.....love anything with bacon!! Made for PRMR tag.
Remove the broccoli florets and cut them into smaller ones. Cut the end of the stalk, then cut it in half lengthways and finely slice.
Blanch the broccoli in boiling salted water for 60 seconds, just to soften, but leaving it with a bite. Drain it and spread it over a clean tea towel to steam dry ( it helps the dressing cling to it). Once completely dry transfer to a serving dish.
Fry the bacon with a splash of olive oil, until crisp and , then spoon most of it over the broccoli. Use the leftover fat from the pan in your dressing, by pouring it into a mixing bowl with the other dressing ingredients, and whisking well.
Add the sliced tomatoes and chopped chives to the broccoli and bacon. Dress it well and check the seasoning. Add the chive flowers and serve.