H. Cato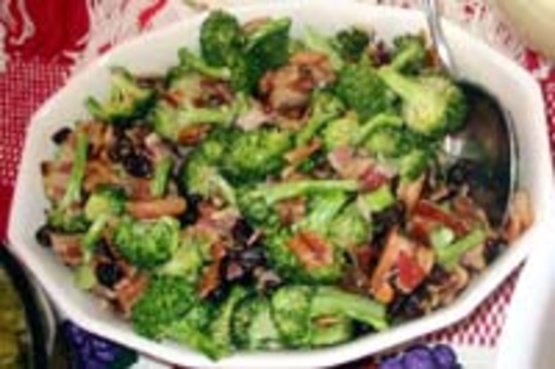 This recipe for the best ever bacon, raisin and broccoli salad is slightly altered from one posted by Martha Carey in a site from Panama, "La Cocina Paraiso" (The Paradise Kitchen). It's a healthy dish, full of vitamins and antioxidants. I won't try to persuade you that it's better than ice cream, but given the choice, I might choose this scrumptious salad.

This recipe is pretty much the same as we make. I have uploaded a picture of the dish for this page. The only difference in the recipe that I make is that I don't cook the broccoli at all, and I don't add celery seeds. The recipe I have calls for 10 slices of bacon. I have also used regular white vinegar, and regular mayonaise (not the lowfat). I would say that oour recipes taste pretty much the same, and look pretty much the same, so I'm sure the picture will do it justice. Great recipe!
Cut off the broccoli heads, and separate into small florets.
Steam in a microwave for four minutes.
Bite a piece.
It should be crispy-tender and bright green.
Nuke for 1 minute at a time for 1 or 2 minutes more if required.
Dump immediately into icy cold water to stop the cooking process.
Remove into a colander and set aside to drain.
Put cooking oil in a skillet.
Chop bacon into tiny cubes and sauté on medium heat until crispy.
Drain and spread onto a paper towel to blot more grease (You may fry bacon whole if you wish, drain, cool and then crumble fine).
Make up the dressing.
Add the chopped onion, crumbled bacon and raisins to the dressing and mix well.
If you have a salad strainer, spin broccoli to remove more water.
Place broccoli in a bowl, pour dressing over it and mix lightly.
Refrigerate for 3 hours or more to chill and develop the flavors.
This salad will keep well in the refrigerator for three days.