Susie D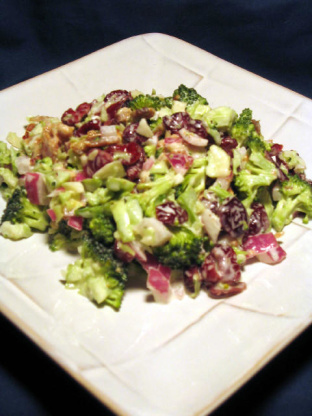 I can't believe I'm posting this. With 180 versions on the site already, who needs #181??? (And what are the odds that anyone would actually try it?) But my kids have just been adamant about it. "Who cares how many others there are, Mom? Everybody knows yours is the best!" Since they put it that way, how could I refuse? :)

THE BEST!! Much better than store-bought. I have made several times, always comes out perfect. I add a couple handfuls of cashews (halved). Also, readers should know that the salad holds up really well for 2-3 days in the fridge. Thanks for sharing.
Rinse broccoli well and drain; separate heads into bite-sized florets.
Chop bacon; fry over medium heat until brown and crisp; drain on paper towels.
In a large mixing bowl, toss broccoli florets, bacon bits, chopped onion and dried cranberries until well-combined.
In a separate small bowl, combine mayo, sugar and vinegar, stirring until smooth.
Pour dressing over salad mixture, stirring well.
Cover and refrigerate 8 hours or overnight.