Broccoli Roasted With Garlic, Chipotle Peppers and Pine Nuts
Rita1652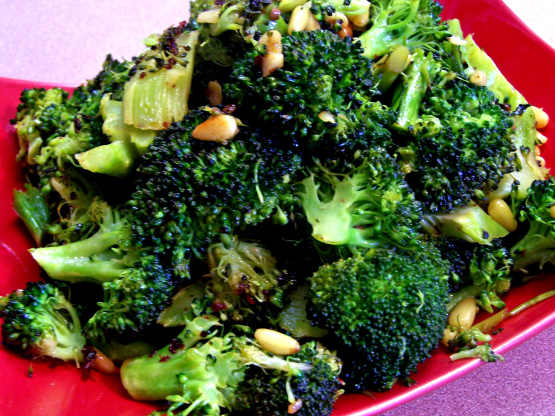 This is so easy and full of great flavor from the broccoli being roasted with garlic spiciness and smokiness from the chipotles and creaminess from the pine nuts. Keep in mind if you don't use seasoned salt and use regular salt you don't need so much.

I live out of the States so things like chipotle peppers are hard to find so I left them out. It still turned out really good.
Preheat oven to 450 degrees.
Place the broccoli in a roasting pan so all will be 1 layer. Mix all the remaining ingredients together then pour over the broccoli.
Place in oven for 10 minutes. Toss and return to oven for 10 more minutes give an other toss for 5 -10 more minutes.
Enjoy!