WiGal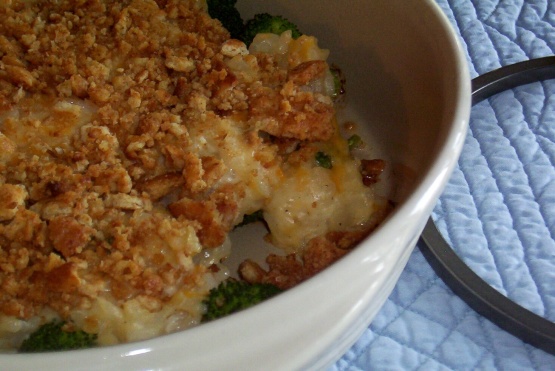 I found this recipe in a Dec 1990 Cooking Light magazine. I'm putting it here for safe keeping since it took me years to find the magazine again

This was great and I will make it again. I had leftover rice and a big bunch of broccoli to use up. I was looking for something to serve with my pork roast and this was perfect. I used butter instead of margarine, full fat cheddar, and light mayonnaise. I sprinkled a bit of cheese on top instead of the melba toast. Very good!
Preheat oven to 350°F.
Cook broccoli in boiling water for 3 minutes until crisp tender.
Drain broccoli and plunge into cold water.
Drain again and set aside.
Melt 1 Tablespoon plus 1 teaspoon of margarine over medium heat.
Sauté onion for 3 minutes or until tender.
Add flour and mustard and cook 1 minute stirring constantly with a wire whisk.
Gradually add the skim milk while stirring constantly.
Cook an additional 2 minutes or until thickened and bubbly, stirring constantly.
Remove from heat and add pepper.
Combine the broccoli, milk mixture, rice, cheese and mayonnaise in a bowl; stir well.
Spoon into a shallow 2 quart casserole dish that has been sprayed with cooking spray.
Melt remaining teaspoon of margarine and combine with crushed melba toast, sprinkle on top of casserole.
Bake at 350°F for 25 minutes or until heated through.