Broccoli Rice and Cheese Casserole
Parsley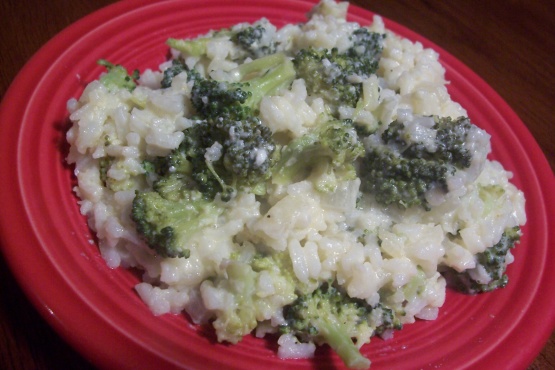 No canned soup or cheese whiz needed for this one, but still easy to make! You could substitute 4 cups frozen broccoli flowerets, just cook them and break them up more.

I steamed the broccoli and used brown rice. Used a leek and the sharp cheddar; added 1/2 tsp salt. We felt it was good, but needed more flavor. This would be great with some more added seasoning, maybe fresh garlic and more salt? Made for Kid Friendly tag.
Preheat oven to 350. Lightly grease/spray a casserole dish; set aside.
Place your 3 cups hot cooked rice in a large bowl and set aside.
Steam/microwave the broccoli flowerets until fork-tender; drain (you should have 4 cups cooked flowerets) and place in bowl with hot cooked rice; set a side.
In a small saucepan, over med-low heat, melt butter; add onion and saute for about 3-4 minutes. Add in milk and beaten egg; stir well. Add in the cheese, salt, pepper and paprika. Continue to cook, stirring often, until cheese is melted. Pour this mixture over broccoli and rice in the large bowl. Stir together well to evenly coat.
Pour mixture into prepared casserole dish. Bake, uncovered at 350 for 30 minutes.