katia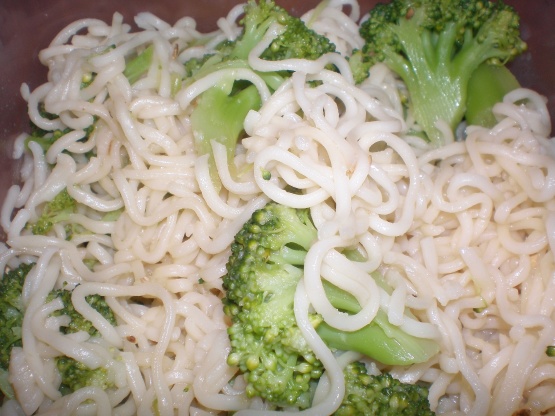 Broccoli even a picky eater will eat. From the Commissary Cookbook.

This was super quick and very yummy. I used peanut oil as I realized I had neither corn oil or peanuts - I thought this was a good substitute. I may use less lemon juice next time as this was a little soupy and I was not going for soupy. But, it had a great flavor - like something from our favorite Chinese restaurant. Thanks!
Prepare noodles according to package directions (2-3 minutes).
Do not add flavoring.
Drain noodles and toss in corn oil.
Blanch broccoli in boiling water (1-2 minutes) and drain.
Refresh under cold water.
Mix lemon juice, honey, pepper, salt, and noodle flavoring; and combine with broccoli and noodles.
Refrigerate.
Before reheating, stir in peanuts.
Reheat in microwave (2-3 minutes).