Broccoli Quiche in Potato Crust
ladypit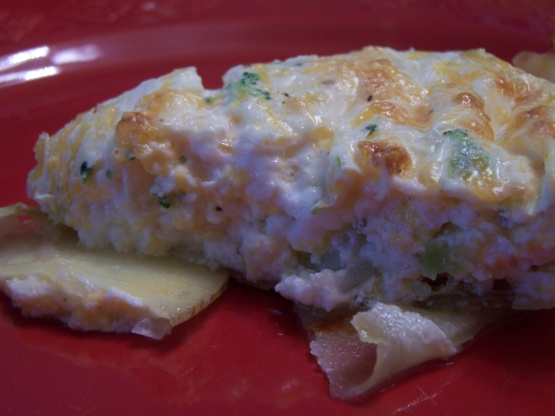 Very easy to throw together! We used to travel around the country in a beat up old motorhome, and this was a good dinner for us, as it doesn't take much kitchen space or much cleanup. It's from Secrets of Fat-Free Cooking, but I hate nonfat cheddar cheese and use lowfat instead. The original recipe called for 1 1/2 teaspoons of mustard, but we thought that was totally overpowering, and cut it way back. This one certainly leaves room for some playing around-you could change the vegetable or add your favorite herbs or spices, but we eat it just the way it is. Hope you enjoy!
I keep trying and can't get it as good as the first time... the second time I made it, I used 10oz of fresh raw broccoli. Big mistake. It ended up VERY starchy and way too much broccoli (10oz steamed includes a lot of water). Made it again today with steamed broccoli florets and it's still a lot starchier than the first time - I don't know if this is the difference between rabe and florets... it was also too wet. Next time I'll make the broccoli early so the water has a chance to seep out. This time I also skipped the crust... I put 1/4 cup of low fat cheese in the bottom and then spooned the mixture on top (if you pour it, all of the cheese goes to the edge). I was counting on the cheese to keep it from sticking - that didn't work - but I felt I could taste the cheese more than when I sprinkled it on top... maybe my imagination. Next time I'll use pam too... I didn't miss the crust - just wish it were a little less starchy overall.
Combine all of the ingredients except for the potatoes in a large bowl, and stir to mix well. Set aside.
Coat a 9 inch deep-dish pie pan with cooking spray.
Slice the potatoes 1/4 inch thick, and arrange the slices over the bottom and sides of the pan to form a crust.
Pour the broccoli mixture over the crust.
Bake at 375 for about 45 minutes, or until the top is golden brown and a sharp knife inserted in the middle of the quiche comes out clean. Let sit for 5 minutes before serving.