Rita1652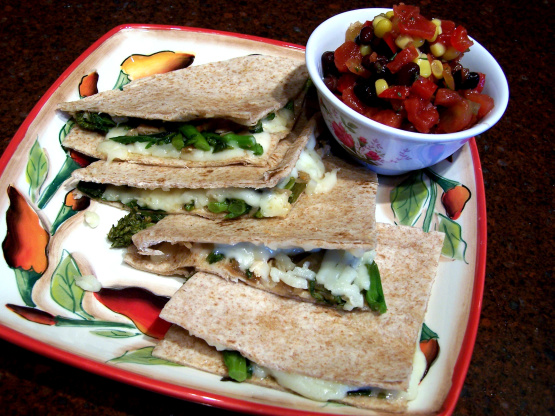 Got this from Delicious Living website. So easy and quick. Here's what the recipe says: "The next time you cook broccoli for dinner, add a little extra so you can make these the next day for lunch or an after-school snack (or even a light supper). You might need to make one at a time, depending on the size of your pan. If desired, keep finished ones warm in the oven until all are cooked." I use cheddar cheese, since I have it on hand. Cook time DOES NOT include cooking the broccoli.
2

cups grated monterey jack cheese, packed (about 1/4 pound)
1 1⁄2-2 cups cooked broccoli, chopped, room temperature
Preheat griddle or heavy skillet over medium heat for 3 minutes. Add a flour tortilla or two and sprinkle each with about 1/2 cup cheese.
Divide broccoli (about 1 cup per quesadilla) between tortillas, sprinkling it over the cheese, then divide remaining cheese over broccoli.
Top each tortilla with a second tortilla and cook for several minutes, until bottom of lower tortilla is light gold.
Flip quesadilla over and cook on second side until bottom is golden. Cheese should be completely melted. Remove from pan and slice into wedges. Serve hot or warm. Cut into smaller wedges for appetizers.