anme7039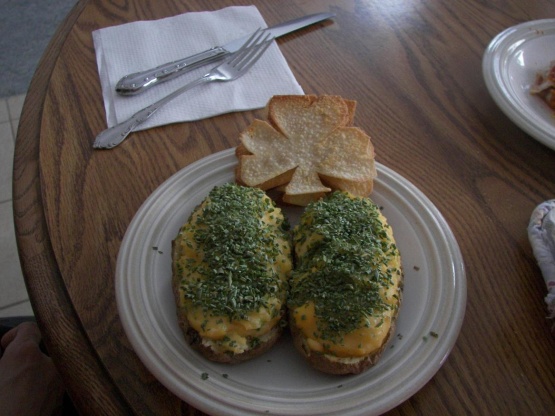 This is quite a common way of doing potatoes but I thought I would send it in anyway. Sometimes I do the recipe up until the final baking step and then just pop them in the oven 25 min before serving dinner

These were great! I made then up on Sunday night and did everything except bake them the second time. Came in from work Monday evening and popped them in the oven and served hot with some veggies--we didn't even need any meat! I love quick easy meals like this.
Preheat oven to 425°F.
Prick the scrubbed potatoes and bake for about 1 hour (Until tender).
Cool on a rack for about 15 min (do not turn off the oven).
Meanwhile steam the broccoli for 5 minutes.
Slice each potato in half and gently scoop out most of the flesh leaving the shells in tact.
In a blender or food processor, using the metal blade, combine the potato flesh, sour cream, broccoli, green onion, garlic, salt& pepper.
Process until smooth.
Spoon the potato mixture into potato shells.
Place on a baking sheet.
Bake until heated through about l5 to 20 minutes.
Serve immediately.