Boomette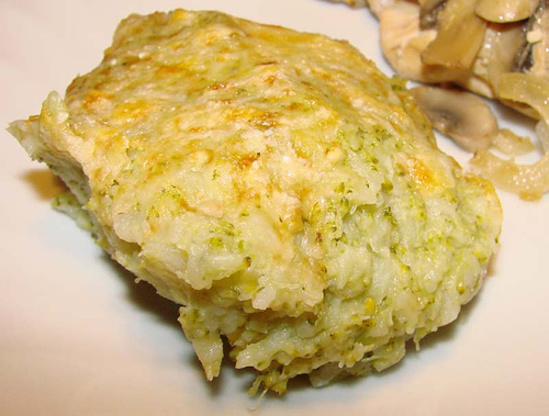 Trimming the fat from a classic dish by using creamy Yukon Gold potatoes as the base of this dish - from Good Housekeeping magazine.
pretty good side dish, but I would like to try and spice it up some. Maybe some onion next time. I think mine needed more salt as well. The Parmesan cheese made it a keeper for those of us looking for different sides while watching our weight. Thanks for sharing SusieQusie!
In 4-quart saucepan, place broccoli, potatoes, and water. On high heat, cover and heat until boiling. Then reduce heat to medium-low and cook, covered, 17 to 20 minutes, or until potatoes and broccoli are very tender, stirring once halfway through cooking.
Meanwhile, preheat broiler and set oven rack 6 inches from source of heat.
Drain vegetables in colander set over large bowl, reserving 1/4 cup vegetable cooking liquid.
Return vegetables to saucepan & mash with a potato masher, adding some reserved cooking liquid if mixture seems dry.
Stir in nutmeg, 1/4 cup Parmesan,salt and pepper.
Spread vegetable mixture in a shallow, broiler-safe 1- to 1 1/2-quart baking dish; sprinkle with remaining Parmesan.
Place dish in oven and broil 2 to 3 minutes or until Parmesan is browned.
Serving size = 1/2 cup.