Broccoli, Peas and Carrots Casserole
Yaneya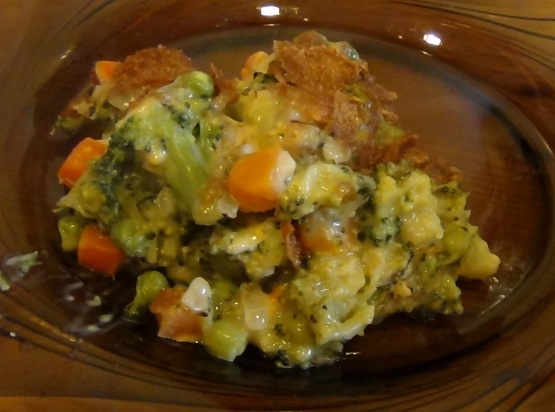 I was looking for a fresh broccoli recipe and couldn't find any one I liked. So I thought that I will make my own. It actually was not so bad. :)
2

large head of broccoli (or frozen about 20 ounce)

2

cups frozen peas and carrots (or fresh)

1

onion, diced and saute
1⁄2 cup shredded cheddar cheese
1⁄2 cup corn flakes (or multi-grain flakes)

1

(8 ounce) can cream of chicken soup or 1 (8 ounce) can cream of mushroom soup

3 -4

tablespoons butter or 3 -4 tablespoons oil
1. Chop broccoli in 1 inch pieces
2. Steam broccoli for 3 minutes,
3. Defrost or steam frozen peas and carrots.
4. Dice and sauté onion with 2-3 t.s. of butter or oil until soft and slightly brown.
5. Mix together cream of chicken soup, shredded cheese, onion, broccoli, carrots and peas.
6. Spoon mixture in the casserole dish
7. Top with corn flakes.
8. Drizzle with the rest of melted butter or oil.
9. Bake for 30 to 35 minutes at 350°F
If you like to have vegetables slightly undercooked, remove casserole 10 minutes earlier. Also, you can add a 1/4 cup of chopped almonds for extra crunch.