Broccoli, Peanut & Sweet Red Pepper Stir-fry
Kay D.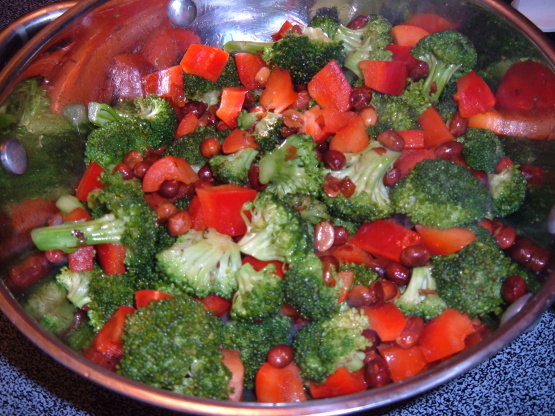 I was feeling creative last night...needed a veggie side dish and this is what I came up with. DH insisted I need to post this since he knows I'll never write it down, hence he'll never get to have it again otherwise!

My partner made something based on this recipe tonight. He added chili powder, ginger, and sweetened dry coconut based on Veggiequeen's suggestion, and we also put in a small zucchini we had. We ate it with whole wheat fettuccine, as we often do with stir-fry. We both really liked it--it's mild and the flavors really play well together. I'm going to make him fix it again.
2

stalks broccoli, washed and peeled

1

large sweet red pepper, cleaned and seeded

1

cup roasted peanuts

3

tablespoons peanut oil
Cut broccoli and red pepper into pieces about 1" square (individual florettes for broccoli).
Use medium heat throughout.
In Wok or stir-fry pan, heat peanut oil and toast peanuts until golden and fragrant.
Remove peanuts and set aside.
Add broccoli and stir-fry approximately 5 minutes.
Add sweet red pepper.
Continue stir-frying until broccoli and pepper reach desired doneness.
Add peanuts back into pan, toss and reheat if necessary.
Pour into serving dish and serve immediately.
Season as desired.