Broccoli Pasta With Salmon
Iceland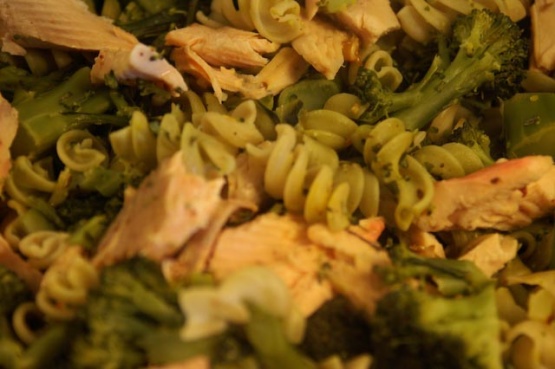 My husband loves fishing and the rivers and lakes have been rich. Half of our freezer is full with salmon and trout so i try to use some of it at least once a week. I prefere smoked salmon with this as it really gives a lot of flavour. Ideal is if you have some homebaked bread wih real butter with it. It can be a starter, a great lunch or a lighter fare dinner.

I know it's probably just me, but I made this recipe even though I do have aversion to eating anything that includes uncooked eggs! So, I did leave out the 'sauce' part of this recipe, but had made up a dill sauce recipe & used it over the salmon & broccoli instead! We do like the salmon/broccoli combo & the dill sauce was a nice addition, we thought! [Made & reviewed while in Scandinavia with the ZWT6]
Wash and clean the broccoli, cut it into small flowers and cook it in boiling saltwater for 4 minutes.
Set aside.
Take it out and cook the pasta in the same water until al dente.
Set aside.
Cut the salmon into thin slices and then into bites (never into cubes).
Whisk the eggs and add milk, a pinch of salt and the freshly grinded black pepper.
Put the pasta in a nice salad bowl, pour the eggs over it, add the broccoli and at last the salmon and blend.
Serve or store in fridge for up to 24 hours.