Broccoli & Onion Casserole
Parsley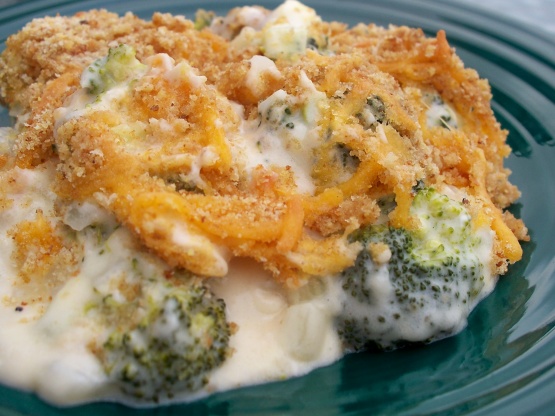 This is one of my favorite side dishes. My in-laws are always asking me to bring this to family occasions.
Ive been making this for my husband for years. It's his grandmother's receipe its very similar to this one except try not cookies g the veggies before, just choose up the broccoli and I use pearl onions but slices of a regular onion works as well mix the two and add to a casserole dish. Make the white sauce and pour over veggies. Then double the cheese and use grated swiss instead of cheddar and bake for and hour so the veggies cook.
Cook broccoli and onions until tender. Drain and set aside.
In a saucepan, melt 2 tablespoons margarine, stir in flour, salt, and a dash of pepper.
Add milk; cook and stir until thickened and bubbly.
Add cream cheese; cook and stir 1-2 minutes then stir in broccoli and onions.
Put in 1-1/2 quart casserole dish. Top with cheddar cheese.
Melt remaining 2 tablespoons margarine and toss with bread crumbs. Sprinkle over casserole.
Bake at 350°F for 35-40 minutes.
Enjoy !