Broccoli 'n Red Peppers Stir Fried
Bergy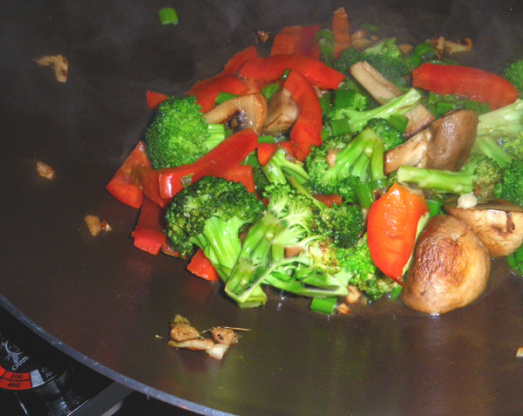 The key to a good stir fry is to have the veggies piping hot but still crisp. Cook this to your liking in terms of crispness. If you like a thicker sauce add 2 tsp of cornstarch to the stock. Great with Chicken. If you wish this suitable for vegetarrian diets use veggie stock in place of the chicken stock I have made this again in 2009. I modified the recipe by omitting the sesame seeds, used no oil just a light spray of "no oil." Not caring for a lot of sauce cut out the stock and used 4 tbsp of vermouth with 3 tbsp light soy - It worked.

I upped the mushrooms to a full pound, used vegetable stock instead of chicken and had a vegan's delight. I served this with shell pasta, and all the adults at the table (4) loved it. The 8 children turned their noses up at it, but what do they know... I think you have to be over 18 to really appreciate broccoli ;-) Their loss, more for me!
In a wok or large skillet Heat oils over high heat.
Stir fry the garlic and ginger for 30 seconds, remove garlic& ginger and discard.
Add onions stir fry 1 minute.
Add mushrooms, stir fry 1 minute.
Add broccoli, stir fry 1 minute.
Add red Pepper and stir fry for 1 minute.
Add stock& soy sauce, bring to a simmer for about 1 minute or until the veggies are cooked to your liking.
Sprinkle with Sesame seeds and serve.