Megmo09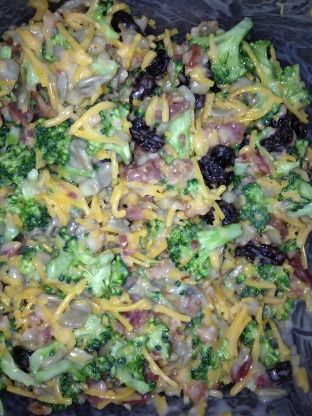 Broccoli Madaline is a great salad. It is already loved by thousands of people. I should know because I used to make it almost every day for Piccadilly. I would have customers beg me for the recipe. It would fly off the serving line. I did cut the recipe down form the original. Also I made sure to put it into my own words. I don't want any one to get into trouble with the copyright. I hope everyone enjoys this.

WOW! This was an excellent salad. It was all gone in 2 days (and I only got a little spoonful on the first day!) My husband really liked it and said I should continue to make it exactly how I did - followed the exact recipe!! Very tasty! Thanks for the posting of this recipe Kim! Made for Bargain Basement 2012.
Wash and drain broccoli.
Cut broccoli into bite size pieces.
Put broccoli into a bowl.
Add shredded sharp cheddar cheese.
Chop purple onion fine.
Add to above ingredients.
Add raisins and bacon bits and mix all ingredients well.
Dressing: Mix mayo, sugar, and white vinegar well.
Pour dressing over salad and mix well.