Debbwl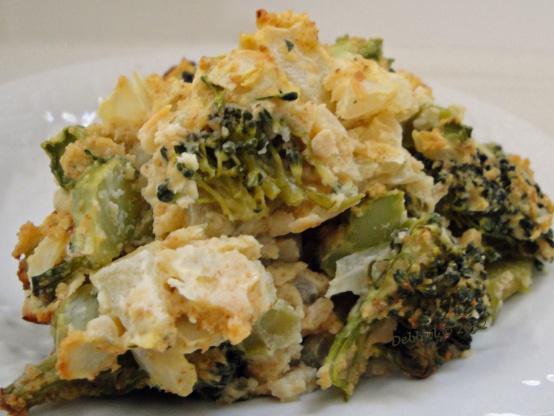 This makes for a great Passover dish. And not alot of eggs either, as you will find that many Passover dishes are heavily dependant on eggs, but not this one. Alot of broccoli goes into this dish as this is the main ingredient. I like to use both the florets and the stems as the whole tree is edible, although you will find that the florets will cook faster than the stem.

I don't know how you could call this a kugel. I followed all the instructions meticulously and what I got was a heap of slightly moist broccoli florets. Unfortunately, I also followed the author's suggestion to quadruple the recipe, so after the first pan came out looking ridiculous, I was stuck with a HUGE quantity of "kugel" mix (which was basically broccoli florets with a little bit of egg and matzo meal on them). When put in the oven, they didn't bind at all and came out looking like... a pile of roasted broccoli florets. There was absolutely nothing to bind this kugel together. Perhaps I should have steamed or blanched the broccoli first, or perhaps passed it through my food processor? Seriously, I love the idea of using fresh broccoli, but even after doubling the number of eggs it wasn't enough to bind it. I even tried adding some mayo to it, as other broccoli kugel recipes suggest, but it simply wasn't enough. Perhaps if I added another couple dozen eggs it could be improved. I've had to bake it all but it looks ridiculous and I don't know how I will possibly be able to serve it to guests. You have to be kidding me! I plan to try to disguise it when I serve it by melting cheese on top... maybe then nobody will notice what it sadly failed to be.
Preheat oven to 375°F Grease a 9 inch by 13 inch pan.
Mix the vegetables together in a medium sized bowl. In a smaller bowl beat the eggs with the seasonings. Add the egg mixture to the vegetables. And the matzo meal, and give it one final mix.
Bake in oven for 45 minutes and serve warm.