Broccoli in Orange Shallot Butter
ChefLee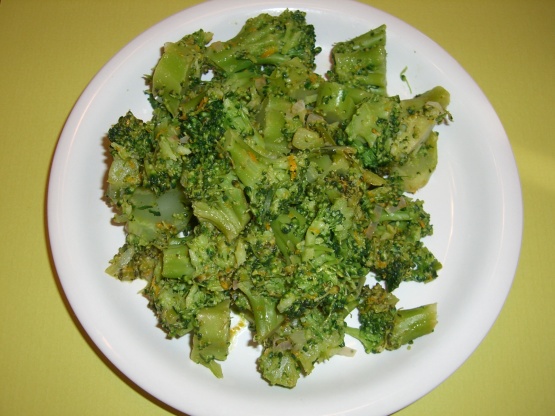 This is a bit fussier to make than steamed or microwaved broccoli but it sure is worth the little bit of extra effort.

This was a really nice twist on the usual broccoli. I think I may have let my juice reduce too much because it was a very thick sauce. I'll be more careful about that in the future. I also only used about 3 tbs. butter.
3

lbs broccoli, cut into bite size pieces
1⁄2 cup fresh orange juice
1⁄4 cup shallot, minced

5

ounces unsalted butter

2

tablespoons orange rind, julienned
salt and pepper
Cook broccoli in boiling salted water until tender but firm (about 5 minutes).
Drain, run under cold water and pat dry.
Simmer orange juice in saucepan with shallots until juice reduces to 2 tablespoons.
Add butter and orange peel.
Cook until butter has melted.
Add broccoli and cook until heated through.
Add salt and pepper to taste and serve immediately.