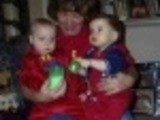 This is a tasty vegie from my Weight Watchers Years.
Directions
Heat oil over medium-high, then saute the broccoli, garlic and oregano until the garlic turns golden (about 3 minutes).
Add the bell pepper, continue cooking about 2 more minutes stirring frequently.
Most Helpful
Easy to make, good flavor, and attractive as well. Thanks for posting !

This is a nice change of pace. I think next go around I will try increasing the oregano a bit and adding some basil. Thank you Trisha for sharing your recipe.