Broccoli & Cream Cheese Casserole
Parsley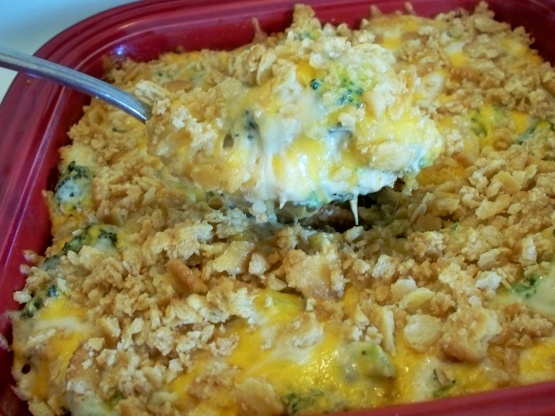 I got this recipe from another web site and posting it here for safe keeping. I haven't tried it yet, but hopefully I'll be able to soon.

Very rich, but quite delicious! I used fresh steamed broccoli instead of frozen. I also used reduced-fat versions of the cream cheese, sour cream, and crackers (and it was still very rich). I mixed half of the cheese right into the casserole and sprinkled the other half on top as written. Thanx for a great new broccoli casserole!
Cook broccoli according to package directions until tender then drain well.
Combine the cream cheese, sour cream, minced garlic and soup mix.
Fold in water chestnuts and add seasonings to taste.
Combine drained broccoli with cream cheese mixture being careful not to break up broccoli.
Place in lightly buttered 9 inch square casserole dish or 1 1/2 quart oblong baking dish.
Combine ritz crackers with melted butter.
Top with grated cheddar cheese then top with crushed cracker mixture.
Bake at 350 for 30 minutes or until topping is golden brown.