Torricus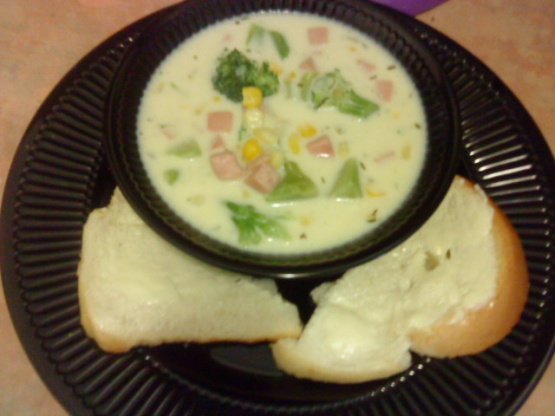 Easy to make. Makes a great lunch.

Very tasty! Mine didn't end up nearly as healthy as the original, as I couldn't find fat free half-and-half, and I added about 200g of cubed cooked ham while cooking the onions to give it a little protein. I'm looking forward to eating the leftovers tomorrow for lunch!
In 4-quart saucepan, melt butter over medium heat. Cook onion and garlic in butter 2 to 3 minutes, stirring frequently, until tender. Stir in flour, salt, pepper, thyme and sugar.
Cook, stirring constantly, 1 minute.
Stir in broth, broccoli and corn. Heat to boiling over medium-high heat.
Reduce heat; simmer 5 -7 minutes, stirring occasionally, until vegetables are tender.
Stir in FF half-and-half and cheese. Cook over low heat 2 to 3 minutes or until hot - do NOT boil.