Broccoli Chicken Casserole
Prep 15 mins
Cook 30 mins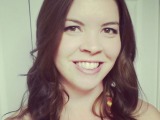 I went over to my sister's house for dinner one night and this is what she made. It was actually really good. It was originally supposed to be eaten alone, but she put it over rice and it was great!
Directions
Preheat oven to 350°F.
For sauce combine soup, mayo, lemon juice and curry powder in a bowl.
In bottom of 13x9x2-inch baking dish layer frozen broccoli, chicken, and sauce.
Sprinkle with grated cheese and breadcrumbs.
Bake for 30 minutes.
Can be eaten plain or on top of rice.
Most Helpful
Very tasty and creamy! It's a wonderful way to use leftover chicken. I added a little chopped onion, but otherwise stuck to the recipe. I loved the touch of curry powder. Thanx!

I thought this was very tasty. My kids and husband loved it too. My mother made this when I was a kid. This tasted the same. Thanks for the recipe.
This is GREAT!! The only thing I changed was I used fresh steamed broccili because it is what I had. I also upped the curry powder to a full teaspoon. Thanks for sharing!!!